RC Helicopter Set-up
by HollyHeli (John Wilson)
12. Where on earth do I get that?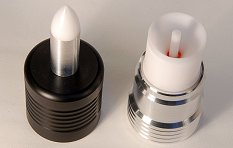 Why these?
No, not the greaser. Although it's not really for set-up, it's obvious why you would want one of those! I'm referring to what follows below. It's not an exhaustive or even comprehensive list, nor does it imply any commercial link, except that I have bought stuff from all these businesses (unless otherwise noted) and received good service. Most are UK based, which usually makes for quicker, cheaper purchases for me, although I gather that there are Hong Kong based merchants who can provide very competitive prices for certain Chinese products.
Most sell set-up related tools or equipment, but I haven't missed any off because they don't, as you may find them useful for spares, upgrades or helis (or even planks). Also check out ChopperAddict's Heli Stores Guide and ChopperAddict's Useful Links. There is some overlap, but two independent views may be useful.
Heli bits
Aliciajay.com
Hard to source upgrades for small helis. MicroHeli & Xtreme importer.
http://www.aliciajay.com/


BuzzFlyer
Cheaper end of the market, though branching out. Very quick.
http://www.buzzflyer.co.uk/


Dao Xuan Huy, Ho Chi Minh City, Vietnam
Just had to put them in! They supplied me special CP2 drive shafts via MicroHeli.


Fast Lad Performance Ltd
Exclusively RC heli specialists. Large stock & good range of tools and set-up stuff.
http://www.fast-lad.co.uk/


Flight Box
RC heli specialists. Good stock of parts & upgrades for better quality helis.
http://www.flightboxrc.co.uk/


Heliguy
Not used them much but seem good. Host Heliguy forum.
http://www.heliguy.com/


MicroHeli (Canada))
Large stock of hard to source upgrades etc., but shipping can cost! See Aliciajay.com.
http://microheli.com/


Midland Helicopters Ltd
Serious heli stuff mainly, huge stock & very efficient, owned by Mr Trevor Wallinger.
www.modelhelicopters.co.uk/


RC Mods
Generally the cheaper helis, but they do some tools & Align spares.
http://www.rcmods.co.uk/


RC Precision Products (US)
Home of Pete's (of Pete's Hobbies) wonderful miniature bearing greaser.
http://peteshobbies.com/prcp/prcpindex.htm
Don't be put off by the age of the website, however, 'The Greaser' is also available from:
Ronlund.com or RC Helicopter World, but I've only dealt with Pete.


Revolution Models
Their shop in Altrincham, Manchester is an Aladdin's cave...
http://www.revolutionmodels.co.uk/


Simply T-Rex
On-line RC Helicopter Store (T-Rex/E-Flite), brilliant service, good product range.
http://www.simplyt-rex.com/


SkyLine Models
Heli specialist, large range of stock incl. tools & set-up gear.
http://www.skylinemodels.co.uk/


Sportsmoto
Excellent family run business offering some unusual stuff, e.g. Sonix upgrades.
http://www.sportsmoto.co.uk/


General RC goodies (incl. planks)
4-Max
Electric flight specialists. Mainly for planks, but full of useful gear.
http://www.4-max.co.uk/


BRC Hobbies
Good selection of electronic devices, electrical bits & radio gear etc.
http://www.brchobbies.co.uk/


Brentford Radio Control
LHS, obvious where! All sorts of stuff, even heli flying lessons.
http://www.brentfordrc.co.uk/


EA Models
LHS in Chester UK.
http://www.eamodels.co.uk/


E-Flight
Electric flight store. Limited stock.
http://www.e-flight.co.uk/


f1hobbies
Good for accessories, oddly presented website.
http://www.f1hobbies.com/


Galaxy Models & Hobbies
LHS in Ipswich, UK.
http://www.galaxymodels.co.uk/


Micron Radio Control
Electronics, Scorpion motors etc.
http://www.micronradiocontrol.co.uk/


SMC
Sussex Model Centre.
http://www.sussex-model-centre.co.uk/


Electronic goodies
Technobots
Robotics, models & technology supplies, good BECs.
http://www.technobots.co.uk/


What Have We Learned?
<< 1 Intro 2 Helis 3 Safety 4 Head 5 Radio 6 Tail 7 Motor 8 Blades 9 Pitch 10 Test 11 Def

<<< ChopperAddict home <<< GatleyGallery RC Helis

© John E Wilson 2010 with thanks to all the businesses that have gladly taken my hard earned in exchange for wonderous RC goodies, tools, gadgets and supplies and to my friend and colleague Bill Boley for the in-flight photos.